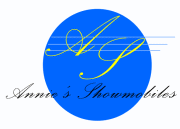 Standard quality features.

• Unitized body construction and rear impact guard that meet or exceed federal codes and regulations.
• Four manual levelers and two removable crank handles.
• Weather channels, all stainless steel hardware, high durability finishes and minimal external fasteners for advanced weather ability.
• Structural panels keep the weight down while creating an acoustically reflective environment.
• Non-skid deck material provides sure footing and is modular for easy maintenance.
• A closed hydraulic system with removable remote control for enhanced safety.
• Built-in fluorescent lighting.
• Conveniently placed electrical hookups and accessory ports for lighting, sound and accessory equipment.
• Electric brakes and hitch-mounted, breakaway switch.
• Stairway, power cables, battery charger, cargo tie-downs, towing kit included.
• Patented and patents pending.
Your Showmobile can also be built with these options.
Electrical upgrade Hydraulic leveling ADA lift Custom graphics
Accessories that can be added to your Encore at any time.
• Portable Versaliteฎ stage extension decks are sturdy and lightweight - about 100 lbs. each.
• Light Bars - each holds up to 4 par fixtures providing a system that is fast, easy and transports in place.
• Weighted draperies in a variety of color options.
• Stage railings • ADA ramp
• Additional stairway units • Portable generator
• Lighting fixture packages • Sound system packages
Five easy steps and the Showmobile is set up.
Creating a performance area or event stage with Encore is as fast and easy as it gets.
1. Tow it to the site and unhitch the towing vehicle.
2. Level the Showmobile.
3. Open and position the end panels.
4. Hydraulically deploy the roof/canopy.
5. Hydraulically deploy the stage.
If the event calls for a little something extra, add stairways, drapes, extra decking, lighting, sound or other accessories of your choice.
Hook up the power and you're ready to go.
After more than 42 years and 1000 Showmobile units, the Showmobile has been developed to give you the best of the best. Wenger is
the originator of the clamshell-type mobile performance center. No one builds Showmobiles that are better than Wenger - manufacturer
of the original Showmobile. For more information on the Showmobile. Call your Wenger Representative at 1-800-733-0393.
Wenger Corporation, P.O. Box 448, Owatonna, MN 55060 • 1-800-733-0393 • FAX: 1-507-455-4258
Printed in U.S.A. • Produced March 2004
Showmobileฎ

279 McChain Rd.
Finleyville, Pa.15332
724-348-5162